BUSINESS BRANDING, MOMMY TIPS, GRAPHIC DESIGN, ART & VARIOUS OTHER THINGS.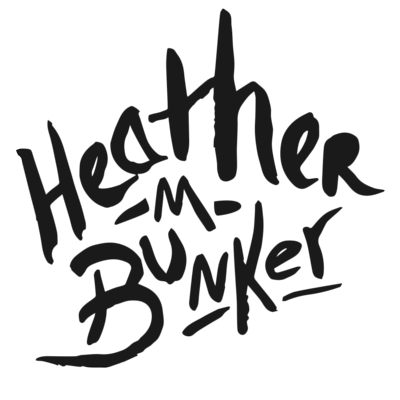 HELLO, WELCOME.
I am Heather Bunker. A designer, branding genius, mommy of 2 and DIY lover. This blog is a mix of business and fun - full of helpful tutorials and design inspiration!

9 Tips To Take Your Handmade Business to The Next Level This Fall
A few things to help your handmade business, "grow up" just a little bit this fall. A few tips or ideas to inspire growth and excitement in your business. Invest, build relationships, learn something new, and don't be afraid to hire professional help...
A quick post about remembering the reason I do "all the things" that I do for my family and what is most important.
I have been busy the last month or so tending to my very first garden. I have waited my whole life to have my own garden. I grew up learning about plants and tending to them with my mom, but at a nursery. My mom instilled a love for plants, gardening and the earth from a young age. I figured I should try and do the same with my children. So, I have taken on the very big task (I had no idea it was so much work) of making my very own Garden.
THE RALEIGH HANDMADE MARKET 2017
I thought I would share with you some of my favorite artisans from The Raleigh Handmade Market. Take a peek!
6 TIPS FOR BUILDING YOUR HANDMADE BUSINESS
Dont get frustrated about branding and marketing your handmade business. Take a breath, be authentic, make mistakes, and keep trying.
THROWBACK THURSDAY: PROJECTS FROM MY PAST
I have been going through some old hard drives the last few days and thought I should share some projects that i have created in the past. some of them are random illustrations, client work and even a few from college projects. It is so fun to look back and see how much you have learned, changed and evolved as a designer. It gives you a great perspective. ED Hardy Inspired Illustration.When I worked at OneUpWeb I was asked to create an Ed Hardy inspired illustration that incorporated elements you might find in Traverse City, Michigan. Salmon, birds, cherry blossoms and water were elements we wanted to represent the beautiful location where we worked. This illustration was used on coffee mugs, tshirts and other online marketing campaigns. I definitly have changed since illustrating this. A doodle for my stepdaughter.My stepdaughter was in her sophomore year of high school and she loved to draw on her clothes so I decided I should design something more fitting for her. I designed a doodled pair of shoes for her to flaunt at school and she loved them. I believe she wore them out. She got multiple inquiries on where she got them and I got a number of calls from her friends. Network Traverse City LogosI created some logo options for a small networking company based in Traverse City, Michigan that helped local small businesses with their social media and connect them with other small businesses. I focused on the many areas of interest in the area and drew a lot of inspiration from the food, culture, and atmosphere of the region. Unconventional Calendar - Tea For EverydayOh college, those were the days...days I could sleep in (if I didn't have class or a lunch date). Days when I didn't have a million things to do or kids to drop off or lunches to pack...or boogers to wipe. I miss college. I miss working on projects just for the fun of it! I should probably get back to doing that. This project was given to us to create a design on our own. We were told to take a font to showcase and create an unconventional calendar. We had to showcase the different type styles and create a unique calendar. Some of my classmates created wall hangings, lamp shades, and other fun ideas but for some reason, I wanted to try a package design...so I created the calendar using a different flavor and type style for each month. The font I was given was Helvetica Neue. I had a great time picking out the flavors based on the connotation of the different type styles and weights. What a fun college project this was. I think I may go have a cup of tea... Frederick Meijer Gardens BrochureHere is another throwback to college. We were given the task of marketing an event at the Frederick Meijer Gardens. My event was a showing of the plant Arborvitae...and If I think back far enough I think it was mostly used for shelter-belts and for shielding farms and driveways from unwanted wind or neighbors gazes. This was a made up project but it sure was fun. I think If I were to do it now I would photograph the actual leaves and plants instead of using a hand illustrated approach. I would do some different image making techniques to show the intricate patterns on the leaves. I still think this was one of my favorite college projects. Family Reunion InvitationAnother college goodie! This is possibly my favorite college project. We were tasked with creating a family reunion invitation to showcase our family traditions and style. My family just so happened to be called the HAZARD family. Yes, you read it right, the Hazards. We love outdoors sports and if there was snow at Christmas time we were outside sledding or snowmobiling or skiing...or blasting someone with a snowball. We lived up to our name and I thought I should showcase our love for the outdoors and our love for the snow. I created this invite to resemble a Geschmossel which is a german ski race...anyway so I could imagine 77 of us (we have a bigger family now) all tangled up in a mad dash to the bottom of the mountain. It really sounds like a Hazard to me! It is so weird looking back at these old projects. I can't believe I have been a designer for almost 17 years (including my education in vocational school in high school. Thanks, Mr. Jensen!) I am beginning to feel a little old. That's ok, along with getting old you learn, and that's most definitely what I have been doing. I am so blessed to have spent the last 17 years doing what I love to do. ​
NEVER MISS A POST
Subscribe to my newsletter and receive weekly post updates, design insights, and more!