LET'S TALK ABOUT YOUR COOL STORY.
Want to share your awesome maker story with me? I would love to hear about how you got started in your creative passion. I want to know how you got started.
7 Ways To Supercharge Your Handmade Brand This Fall
​
HELLO & WELCOME
I am Heather Bunker: Designer, branding genius, mom of 4 and DIY lover. This blog is a mix of business and fun - full of helpful tutorials, marketing insights and design inspiration!
NEVER MISS A POST
Subscribe to my newsletter and receive monthly post updates, design insights, and more!
It's that time of the year again: back to school also means back to work and fall is, indeed, a crucial time for your handmade business. With craft fairs and fall celebrations, wine festivals and harvest fests just around the corner, you will soon be overwhelmed by work and professional opportunities that you can not afford to miss. Here are my 7 good ideas to grow your handmade business this fall and nail this new year to come.
1.

BRAinstorm your goals
For some reason goals seem to be coming up in my life alot lately. So I am sharing with you again.

Easier said than done, as you know there are so many options and opportunities to seize that will grow your handmade business. I suggest grabbing a notebook or journal now. If you don't have a good journal, may I suggest one from Mind's Eye Journals? They are fantastic...anyway, sit down and lay out all of your ideas, concerns, and inspirations flat on a piece of paper. I suggest sketching and writing for about 30 minutes. Don't worry about what your actual writing looks like or how cute your doodles are, just write. In design school, we called this exercise. brainstorming. After your 30 minutes is up go over your scribbles and use them to write your goals based on your thoughts about your business.
It really helps me see things more clearly. Think of your goals in quantifiable terms so you can measure your progress and results at the end of the year. You do not want (or need) vague objectives that will literally mean nothing in few months and bring you no motivation or excitement about the year to come.

A few examples of good goals:

1. Reduce materials costs by 10% by 20xx
2. Increase Instagram followers by 50% by 20xx
3. Increase revenues by 25% by 20xx
4. Increase E Commerce sales by 10% by 20xx
Would you like to launch a new collection? Increase your sales in a particular market, or be more influential on social networks? Be as specific as possible and think in terms of exact goals, perhaps you want to increase your number of subscribers on your Instagram account or partner with strategic outlets to reach your target. The more clear you are in the outcome you want to achieve, the easier it will be to establish a strategy to achieve it. Then work on the strategy. Write down specific steps to take to reach your goals.
2.
Get organized and be methodical
Success is all about being methodical. I know a lot of creative people who struggle with this aspect of their work: being methodical and creative are, after all, two very different things. But the sad reality is that it's not enough to identify your goals, you must have the right tools and techniques to achieve them and grow your handmade business. Start this new year with something as simple as reorganizing your workspace, sorting through your emails, setting up a precise and organized schedule and have an honest conversation with your colleagues (or loved ones) about how you can be more productive.
I'm actually doing this right now…I have a terrible tendency to just take all of my receipts and throw them in a pile and I end up with like 8 different piles that I have to sort through. So I am in the process of making a family command center. I promise I will share photos. I can organize the receipts as they come and all of my other family things along with my business paperwork. A family calendar, weekly menu, and a place for everything. YES! My husband is so awesome too…he is making me a really cool entryway organizer. I'll have to post photos of that too.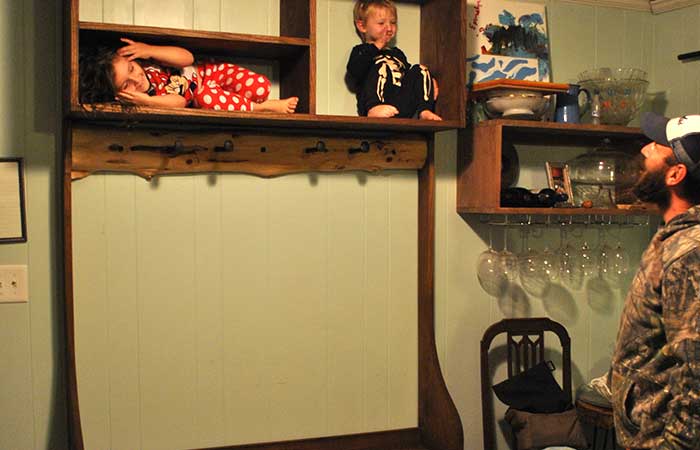 On another note, we seem to have a lot of projects going on at our house this fall. A new king size bed, kitchen table, entryway organizer, and a new 'bunker" bed. My toddler calls the new bunk beds, bunker beds. So I have adopted that term. We actually used this cool bunkbed for our inspiration. Who knew though that the galvanized pipe would be so expensive. lol.
Take time every week to create a list of tasks and put the one that is going to help your business the most at the top. Tackle the list one at a time with the most important first. This works.

3.

Reconnect with your customers
Summer is the best time of the year...to lose sight of your customers. It is, therefore, crucial for you to take the time to reconnect this fall. My tip is to take advantage of tools as simple as your social networks or your newsletter to talk to them about your new projects for this year or even share your goals. A huge part of branding your business is about building a community, especially when you have a handmade business. So share what you have been up to, don't be afraid to get personal and genuine about why you do what you do. Organize a meetup to meet them in person and probe them on what they expect from your brand, tips on how to improve your products or what makes you stand out from your competition. Your customers should be at the center of your work, so work on a brand they will fall in love with!
I am actually going to be doing this soon myself and asking a handful of artisans to do an interview with me. If you are up to a 10 -20-minute interview that I will share on my blog I would love to do a feature and take some time to ask you a few questions! Just comment below and we will set up a time and date!
4.
Observe trends
Fall is a very creative period of the year: fashion weeks, craft fairs, conferences and book signings... your agenda must be filled with these events that will allow you to grasp the trends for this new year and inspire you in your creations. The most important thing to grow your handmade business is staying unique and keep telling your brand story while injecting touches of these trends into your products to gain visibility and take off your business. Every fall, I pick one that I particularly love and which I think is consistent with my creations. My advice is trying to not overdo it: your customers will easily realize that you are opportunistic and do not have a true brand identity. Make sure you stay true to yourself and your brand.
5.
Create seasonal merchandise
This is one of the most important tips on this list: your merchandise must reflect the season. Products that are timely always sell better, especially at fall craft shows. Play on holiday creations like ornaments, cold-weather accessories, comfort foods: these are always big sellers. Stay true to your brand's style and story but do expand your product line if needed.
6.
Test new markets
I always say that the beginning of a new year is the perfect time to try new things, like markets or niches you did not think of for your brand. For me, fall is all about thinking out of the box and taking risks! Sell your products in a variety of places and identify markets where you get the most traction. I promise you some surprises! The best way to grow your handmade business is to start thinking about your sales strategy before the beginning of the year. I am always buried under work by the end of October, so it's the only way for me to be right on track for the holiday season is to start before Halloween. For you that could be online, at craft fairs, trunk shows, in stores, or perhaps it's time to open your own brick and mortar store. You won't know what works, or who your potential client could be if you do not test new markets and get your products out in the world!
7.

Make new friends
It's no secret that business is all about networking. My professional contacts are my number one source of inspiration, motivation, and support, especially when I least expect it. So go out there: network, do collaborations, but always in an authentic way! We are all part of a community, so it is important that you show up for events, craft fairs, conferences, book signings, and most importantly, support one another. It's the only way you will receive all that love and praise back, which by the way I would love to do a few collaborations! Who is up for it?
​