Holiday Promo Ideas For
Your Handmade Awesomeness​
HELLO & WELCOME
I am Heather Bunker: Designer, branding genius, mom of 4 and DIY lover. This blog is a mix of business and fun - full of helpful tutorials, marketing insights and design inspiration!
NEVER MISS A POST
Subscribe to my newsletter and receive monthly post updates, design insights, and more!
Are your holiday promotions ready to hit the market? Don't leave your holiday promotions until the last minute. No dawdling, seriously, let's kick 2017's butt, and jump right into a merry and bright 2018!
The holidays are quickly coming around the mountain and considering that most small businesses bring in 20 to 40 percent of their annual revenue during the holidays….let's get crackin'. Seriously, let's be the jolliest bunch of artisans this side of the north pole. Ok, I know I'm being weird. But I think I just got a bit of Christmas spirit…and it's not even Halloween yet. What is wrong with me?
Let's make sure your handmade pieces of awesomeness get in on some of the holiday action. Sans the spiced cider…here are a few holiday promotions that you can take to the bank or copy this holiday season.
Early Bird Offers
Encourage your customers to sign up for an early bird special…Offer a steep discount on a small item and a small discount on a larger piece.
Perhaps you could host a small business Saturday event at a local brick and mortar, coffee shop, gallery, or another store that might fit in with your brand. For example: if you sell gorgeous sterling jewelry you might pair up with a local wedding venue, florist, winery, or distillery. Or if you make leather bags and purses geared towards young professionals, join up with a local college, library, coffee shop, author, wine tasting event, or seminar?
Plan a Holiday Gift Guide
Oh man, I remember the days where gift guides or they were called catalogs were the thing. Remember those? Back in the old days, the only way one could shop was to go to a physical store or thumb through huge printed catalogs. Now, I am kind of old school and I enjoy looking through anything printed, but gone are the days that your parents or really many people shop from catalogs. I remember circling the toys I wanted or staring through a window at a local shop…man, I miss that.
So as we all know online shopping now takes the cake for most holiday shoppers. According to Forrester, holiday sales are projected to reach $129B, up 12% over 2016. Oh, Mylanta! That is a lot of dough. No, not Christmas cookies. Money, cold, hard, cash. It is up to you to reach them and a good way to do that is by setting up your own online holiday gift guide.
I really like New York Mags 2016 Holiday Gift Guide.
Create a gift guide based on different family members or on different price points:
10 Gifts for Him/Her for under $20
5 gifts Dad Will Love for $50 or less
3 Must have gifts for your Wonder Woman (aka Mom)
6 Super cozy gifts your hardworking dad will appreciate
THE Best 5 gifts to give Mom this Christmas under $100
Most importantly think about your business, and what kind of guide would fit your brand best. What is the best price point for your customers? What do most of your customers feel comfortable spending on an average day? Do you have a piece or item that sells the best at shows or events? Answer these questions and then you can start to put together an awesome holiday promotion. And don't forget to blog about it on your website and share on all social platforms.
12 Days of Gift Ideas
Ok so if you don't know about Ellen's 12 Days of Giveaways show you have to….go watch it. Seriously someday i want to go. It would be awesome! lol Anyway you can have your very own version of it but probably scaled down…drastically.
Offer 12 days of giveaway ideas, have people sign up for your mailing list, or submit a photo to Facebook or connect through social media (whatever marketing strategy you are hoping to boost) and then do the giveaway. Make sure the gifts are pretty substantial…You could even partner up with a few other artisans or products that you think would want a bit of advertisement as well.
Gift Card Bonus!
I know this is terrible but when it comes to giving gifts, consumers value convenience over uniqueness. Time-crunched shoppers will turn to the cards that are easiest to buy…I know its sad. So if you have a gift card available in your store and on your website then you have a chance of vying for those sales. A bigger chance actually because you offer a unique product that gives them the chance to get both convenience and uniqueness. Possibly think about a few local stores where you might be able to offer your cards?? You could also offer them at art shows if you have an E-commerce site where you can sell...usually when it comes to doing gift cards you have to sign up for some sort of service…but here is a good detailed post about choosing the right gift card program for your handmade business.
Free Shipping
FREE SHIPPING is HUGE! I actually never buy anything online during the holiday season without free shipping…ever. Why would I pay for shipping when I can just go to the store to pick something up? Perhaps you have to raise your prices to adjust for offering free shipping or just take the small hit for the sale. Or you can also put a cap on your free shipping like, "Free shipping on purchase over $50" Whatever you have to do….offer free shipping.
I actually created this cool infographic for my clients and friends over at Fulfillment Service about free shipping….lol I created this a long time ago but its still really fun.
An infographic by Efulfillment Service
Include nicely designed coupons with purchases
Take the opportunity to nurture repeat business and build your brand by offering incentives for repeat customers. Include a nicely designed coupon or special offer in your customers bag…you could even design something really memorable that they might share on social media. Encourage them to interact with you online after the sale.
Get Merry with other businesses
Get together with another business, or two…or five…and exchange coupons or go in on a special offer.
Cross promotion or another term that is used is, co-marketing. It means teaming up with another business to create a stellar promotion that benefits both of you. The trick is to find and collaborate with a business that doesn't compete with you.
So let's say you are a journal maker…perhaps you could team up with dickblick.com, adorama.com, a travel company, or a handmade pen maker, or even an author or another writer?
If you are a handmade jewelry artist you could partner up with a maker who makes handmade wallets or bags, or even a jewelry box maker?
If you don't have time to find someone to collaborate with in time for the holidays you could keep this in mind for the future…and here are a few more ideas about co-collaborating on this here.
Nothing says, "Thank You" like feeding someone…
If you have some really loyal customers or clients, you can say a special thank you during the holidays by hosting or taking them out to lunch or dinner. Many of you are in a certain city for an art show..I know the added thought and time and certainly, the energy expended might make you want Santa nuts...(I know the drain of working at a show) but offering something like this to a select few of customers might make them feel extra special. They will appreciate the gesture and in turn, you will build report and relationships….possibly even building brand ambassadors.
Nothing is better than Santa Claus
People love Santa! Seriously, that jolly laugh and squishy belly…the nostalgic presence of Santa makes me want to be generous. lol, Why not invite Santa to your booth at a holiday event, or even your brick and mortar store. You could even offer free photos and hire a friend to take pictures. Engage people on social media and even collect people for your mailing list.
Nothing says Merry Christmas better than a well wrapped gift.
My adopted mom does this so well, and before I had kids I would spend a lot of time on gift wrapping. A well wrapped gift trumps whatever is in it. As long as the gift wrapping looks amazing it adds so much love and thought to the gift. You know what I mean if you ever got a really nice gift that was never wrapped and left in the plastic bag. Its all in the wrapping. You can do sooooo much with your brand and the way you wrap your gifts.
I loved this post written by the blog, Walk In Love about inspirational wrapping.
Whether you sell products in a retail store, online or at art shows your busy customers are likely to want some of their purchases to be gift wrapped. You can offer it as an extra service or even as a complementary add-on depending on the price point of your products.
Be sure to share your return policy
Make it clear as to what your return policy is. A lot of makers have unique and custom gifts and have different return policies. Be sure to clearly state what your return policy is. If by chance the purchase doesn't work out you want to be sure to gently and realistically handle the issue. Having a clear return policy should help with that.
Nothing is better than Hot Chocolate or Coffee.
It's December and your at a freezing art show? I bet your customers are too! What better way to warm their hearts that offering a simple cup of coffee or hot chocolate to your customers. You can even brand the cups! You can cater the coffee or hot chocolate through a catering company or even order ahead with Panera, or I think even Starbucks does something like this….but really its always better to support a small local coffee house! They might even do some cross-promotion with you and encourage folks to attend the art show.
Be quick to send out holiday cards
Nothing is better than getting a nicely designed Christmas card…especially one that is funny, unique, and hand written. I'm not saying you have to hand write every card you send out but depending on the size of your mailing list you could most definitely add a few personal touches. Customers love that!
Plan on sending out your cards early to avoid the crazy rush…and offer a small promotion or incentive to share on social media. Really just make them personal, fun, and send them out early.
I can help you with a fun holiday card…something unique to your brand mention this post and get 15% off a custom design.
Don't Neglect Your Website
If you have an online E-commerce store (if you don't let's talk) don't forget about using it to sparkle a little bit of Christmas glitter on the interwebs. Add some holiday inspired elements to your website, perhaps have a few nicely designed Christmas headers, ad a bit of fun and whimsy or whatever your brand style may be. Add a bit of merry to your online presence, whether that's a jolly fat flying Santa or traditional holly and berries it's up to you.
Do Video
Video marketing is a great way to attract new customers and can even go viral! Yes, viral. Create a themed video that shows off your holiday spirit…either a song, spoof or holiday story…just make sure it fits your brand and is authentic. No one likes a video that is fake.
A tiSket a tasKEt give a gift basket?
Sell more products if you create visually stunning gift baskets that include multiple items…you can even co-collaborate on a gift basket and sell other artisans work along with yours!
One company that I love that makes really cute gift boxes is The Little Flower Soap Co based in my home state of Michigan. Perhaps a jewelry artisan might be able to partner up with her? I purchased a gift basket for a client a few months ago and she was amazing. I will definitely buy from her again!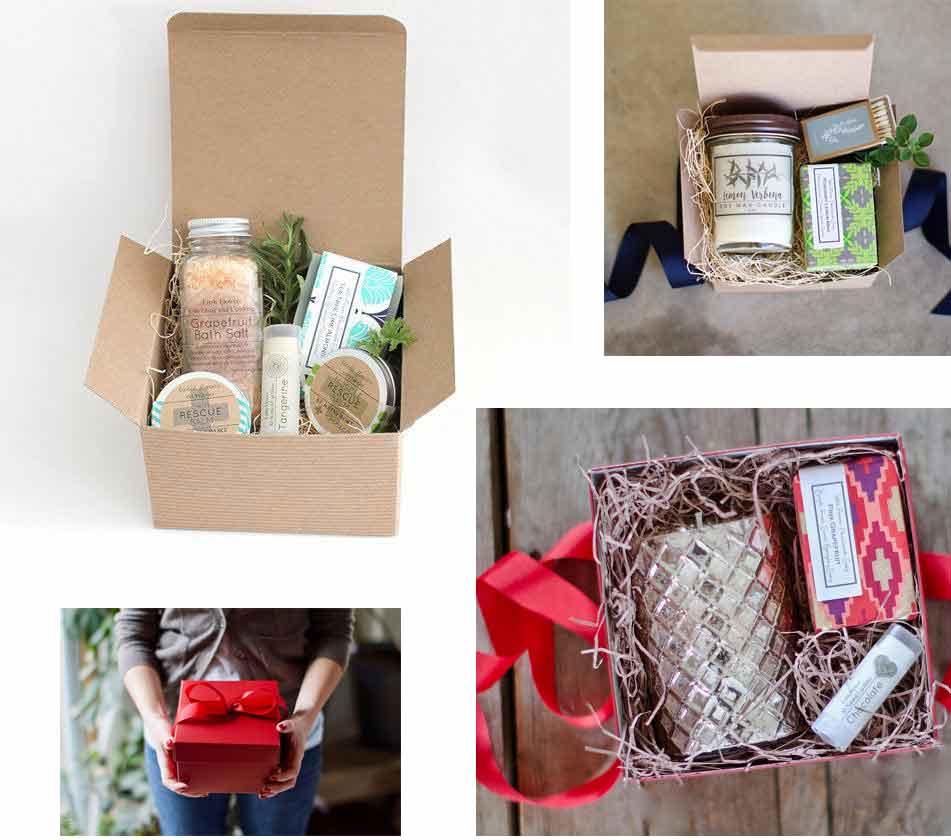 Make a holiday themed landing page
Measure the effectiveness of your campaign with a holiday-themed landing page. Don't waste your Paid advertising dollars without having a way of collecting information from your customers, driving them to complete a sale, and being able to measure the effectiveness of your campaign. Design a landing page for your holiday promotions.
Secret Holiday Sale
Reward your email subscribers and favorites with a secret sale that isn't published anywhere but in an email blast. Make your favorites feel special by giving them a really great deal. I promise they will want to share with there friends.
Make a gift or a resource
You could also create a downloadable gift or resource for your customers. Perhaps a recipe book based on recipes you use, an ebook, shopping guide, gift tags, or even a fun game or coloring book? So many ideas! You could either have it printed and sent in the mail as a gift or downloadable through your website or special email. giving gifts to your favorite clients and customers is a great way to show your appreciation and build your brand and your followers.
Have any other Ideas? I would love to hear a few things that you have tried! I cant believe that Christmas is already on the horizon. My son will be 2 in December! Oh, man.
​