HOMEMADE TODDLER CINDERELLA AND PRINCE CHARMING HALLOWEEN COSTUME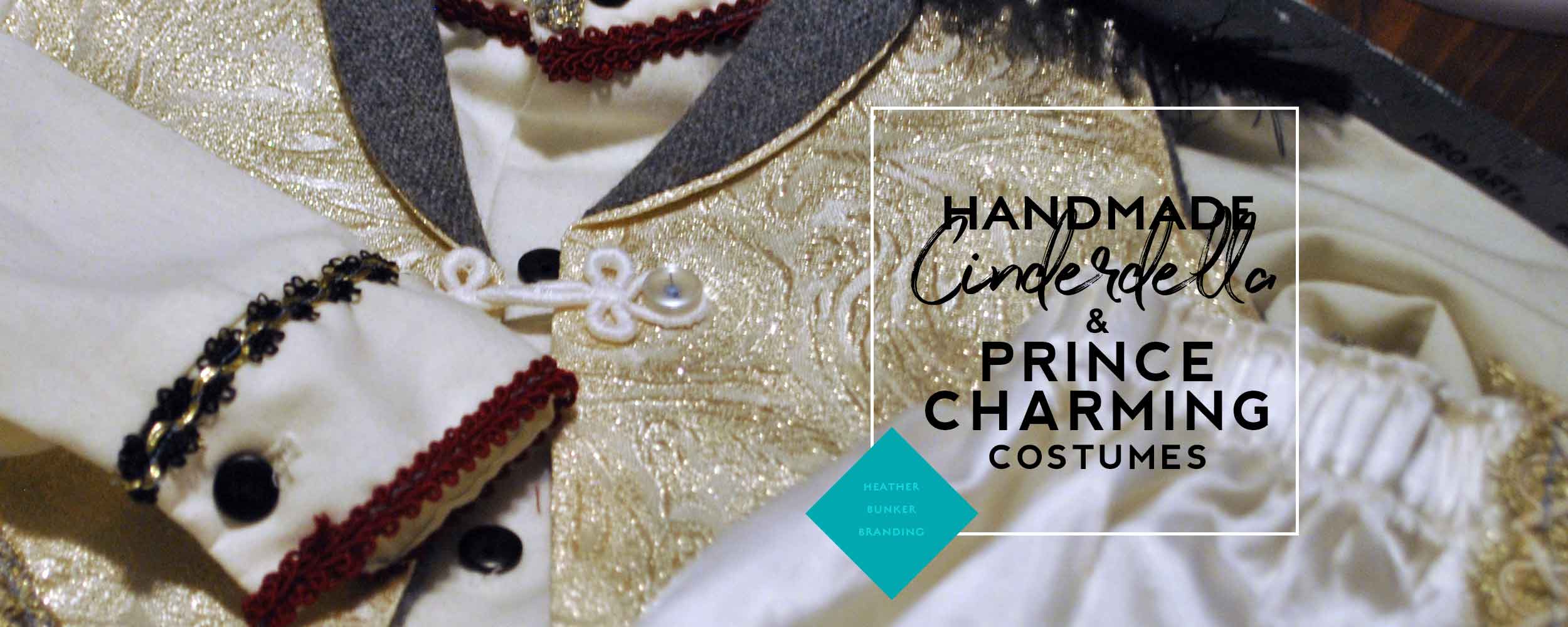 HELLO & WELCOME
I am Heather Bunker: Designer, branding genius, mom of 4 and DIY lover. This blog is a mix of business and fun - full of helpful tutorials, marketing insights and design inspiration!
NEVER MISS A POST
Subscribe to my newsletter and receive monthly post updates, design insights, and more!
I had the best time this year with my Littles Halloween costumes. All I started with was my daughter's persistent desire to be Cinderella. I am so ok with that as I love Cinderella and her humble heart and her hardworking, beautiful spirit so I was eager to please my little girl. Last year I was at an estate sale and I saw this cute little white and light blue wedding dress and snatched it up for a dollar. Needless to say, this is just the inspiration I needed to craft these two the cutest little Cinderella and Prince Charming Halloween Costumes. Here is what I came up with:
I think they turned out so cute. Do you?

PRINCE CHARMING

My son is only one and a half so I decided that I should dress him how I want...one last time. Next year he will probably want to be something way different like Batman or something... so I thought I should have one last hurrah until he is too big to know better. So, Prince Charming it is! For my son's costume I went to Goodwill and found an older long-sleeved shirt with black buttons...and I found an old infant baptism outfit but the vest didn't fit so I fashioned one of my own. I made a pattern using one of his actual dress vests and created a royal vest. I used some old pieces of gold fabric and some old grey linen fabric that I have been saving just for a project like this. I bought some ribbon details and flourishes from Michaels to make it look "royal" and finished the edges etc.
I think I am most proud of the cute medal jewelry...please tell me what those things are called? I cannot for the life of me figure it out. I didn't want to spend any money on this but I knew it was an important part of the look. So what I did was make it out of doubled up Kellogs cereal box. I used Elmer's glue and dried it in the oven at 200 degrees until it bubbled up. That created the jewel effect. I then painted each piece with gold paint and used an old red ribbon to fashion the jewelry piece. I should have painted both sides as you can see below the "great" typography from the cereal box.

I also had a hard time finding a sword that wasn't one of those cheesy foam ones from the dollar store...so I settled with a "pirate" sword knowing that would keep him happy and entertained. I even fashioned a shield out of a dollar store gold charger....I quickly drew a Bunker family crest on it and called it good. I just drilled two holes and used some gold ribbon to make a handle. Surprisingly he was more interested in carrying the sword and shield most of the time...well, at least until he figured out that candy was being put into the pumpkins...then he could care less about the sword. He is a smart boy. lol
Total Budget = $15
CINDERELLA
I have always loved the story of Cinderella so I am not surprised that my Emmalyn would love the story too. She loved dressing up as a princess and she was so excited to be wearing what she called, "Her future wedding dress." I told her that someday we would come up with something even better and it wouldn't be a costume...I immediately got really sad because I know that before I know it that day will come.
SLOW DOWN...seriously. Stop growing.

Anyway, I used the vintage dress I picked up last year and re-hemmed it, added more blue tulle, and the "poofs" with some blue satin and cap sleeves. And Whoila. Cinderella. I did add a bit of lace to the bodice too...but get this, the darn zipper died of course right after she put it on to go out for the night. So I had to literally sew her into the dress and cut her out when we got home for the night. I'll have to take the zipper out and sew in a few buttons so she can wear it as a play dress. She was so happy to be dressed up and I was super happy to have such a willing participant. She actually let me do her hair and sat very patiently for a 3-year-old. She also left it alone which is a huge surprise because usually, she tears her hair out of whatever updo or hairstyle I make. It drives me crazy. So I was glad to see her hair stayed put the entire night.
Total Budget = $7
If I had more time and didn't have a million projects going on at one time I would have loved to make the wagon into a carriage...but that would take time this mom just doesn't have. I am so glad that she enjoyed her 3rd Halloween and Owens first Halloween where he could take part. It was a blast.
HAPPY HALLOWEEN!