BUSINESS BRANDING, MOMMY TIPS, GRAPHIC DESIGN, ART & VARIOUS OTHER THINGS.
The RALEIGH HANDMADE MARKET 2017
HELLO & WELCOME
I am Heather Bunker: Designer, branding genius, mom of 4 and DIY lover. This blog is a mix of business and fun - full of helpful tutorials, marketing insights and design inspiration!
NEVER MISS A POST
Subscribe to my newsletter and receive monthly post updates, design insights, and more!
MY FAVORITE ARTISTS

I AM TERRIBLE. It's been more than a month since I went to The Raleigh Handmade Market. I have been so busy with life, my garden, clients, and the craziness that comes along with raising 2 under 4. Im finally sitting down to share with you, my favorite vendors from the event. I got to meet some really amazing artists and really enjoyed myself. I even bought myself (and even my husband) a few things. I just love this!

So here goes:
FREE RANGE AND FERAL
Free Range And Feral caught my eye for one reason alone. They already have a great brand identity started and an awesome prodect which puts them on the path to victory! No, seriously they have an awesome start thanks to the husband and wife team, Cody and Maggie. Cody does the design and business side of the brand and Maggie takes the creative lead. What a great team. They make all sorts of beautiful things from jewelry, leather goods, candles, t-shirts etc...all inspired by their farm. SO cool.

When I met with her we talked about her story and how much of she should share. I encouraged her to share all of it! When branding yourself, your story is your brand and people want to know your story. Nothing is cooler than knowing how your life works, seeing your studio space, seeing the inside of your brand is such a powerful tool. What makes you tick as an artist and maker? That is what people want to know. Keep up the awesome work Maggie and Cody!
Zoe Girl Designs

I got to meet the maker from Zoe Girl Designs and we talked a while about her adorable, funky and freaking awesome clothing for children and infants. Donna, was a joy to talk with and I really loved talking with her about her business. You're probably loving the fabric that she uses and the oh so adorable patterns too? She sews all of them herself. I only wished she had some of them in larger sizes for my Emmalyn. SO SO Cute!
Donna shared with me her love for her business but like many other creatives, she is just burnt out. Don't we all get that way at one point or another? I think it's so important to not forget why we do what we do. Sometimes I have to just get out some craft stuff and just make something. No design, no planning, just create. Don't forget to take time for yourself to just be creative. Who knows, you might come up with the next big product you needed...or you just might feel a bit refreshed after. Either way, don't forget to just create.

Oak leaf pottery
I had the chance to speak with the owners of Oak Leaf Pottery. What a cute family! I loved meeting Daniel and Allison and their tiny baby! We talked for a short minute in-between customers and the one thing that stood out to me was that after having her son its hard to figure out how to be a mom and a business owner. I totally agree! Gosh, I couldn't tell you how many days I am torn between my children and my work. We find ways to get things done...mom's are pretty inventive and out of those crazy days that we just can't seem to sit down long enough to get something done, comes inspiration. Allison shared with me that since her son is still so little she has started making these awesome ceramic necklaces because she can do them away from her studio. I loved them! I need to order one from her.
S Tector Metals

I was hoping that I would get to meet the maker behind S Tector Metals but I didn't get the pleasure. She had her lovely mom run the show in Raleigh for her while she was at another location. So smart. :) Anyway I was bummed I didn't get to meet her...but, her work is so lovely. I fell in love with her bib necklace below. I wanted it in white but she didn't have one at the show. I need to order one from her. SO awesome. I love how simple and clean her designs are. Maybe someday I will get to meet her in person. Keep up the good work Sarah.
twiggy road designs
Ashley is the kind of girl I resonate with. I so loved meeting her and talking about her awesome work, her family, and husband (who is an awesome skateboarder) and how she started making her creations. I would love to hang out with her more and see her work in action. Her pieces are unique and stinking epic. Maybe she would pick one out just for me! ;) I love her style and could see this worn with some funky outfits but they could so be worn with a classic black dress. I can't tell you how much I adore her work.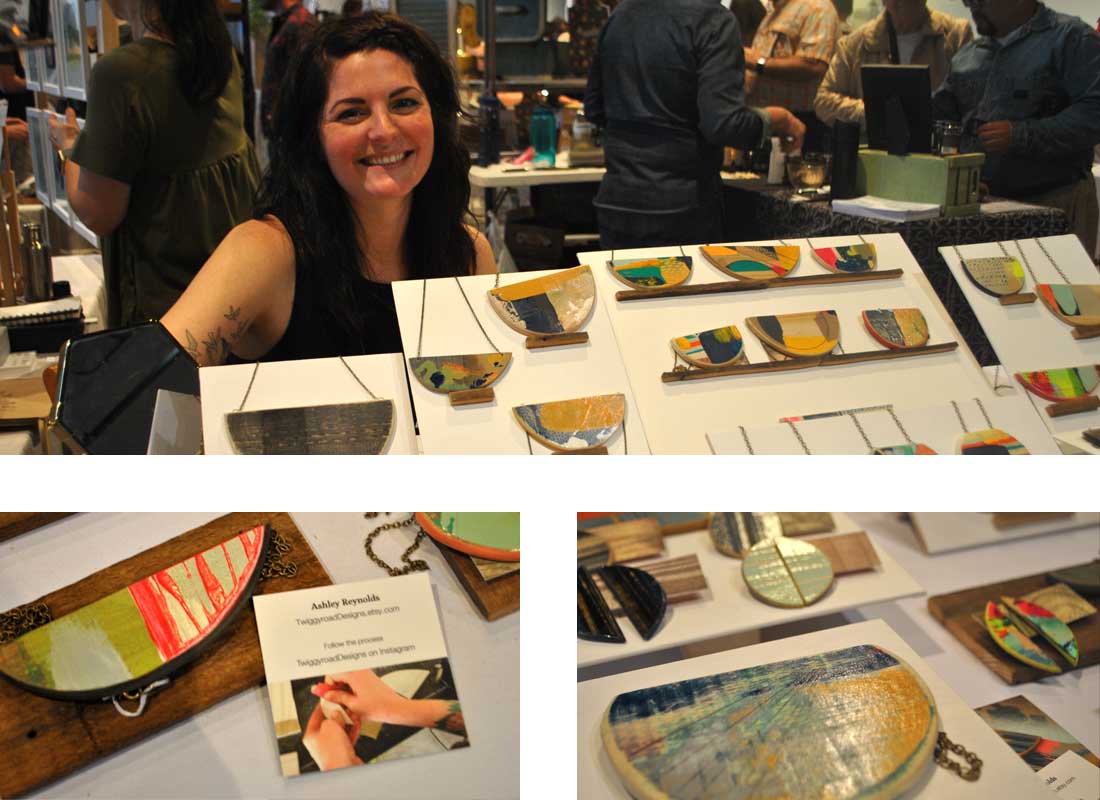 On another note, I did notice that she was hard to find. When I tried to Google her store Etsy just did not want to find it. Turns out you have to use the S. That brings me to an important point...you have to have your own website if you want to be found. You should not make your customers have to search you down. Make the sale easy, fast and efficient.
Garland and pendant
Ever so frequently I meet a business owner who tells me a horror story of hiring a "graphic designer" who purchases a free font to design a "custom" logo. It makes me so sad when people claim to be designers and use free fonts and claim their work to be custom. UGH! It makes me so angry. Sorry for the rant.


Sorry, that was completely off topic but I really enjoyed the maker behind Garland and Pendant. Her testimony and strength are apparent when she talks about her work and her story. It truly is artisans like her that inspire me. Working hard to start a business and dealing with the throes of life in the midst of it all. If you don't know her story you can read it over on her website and check out her blog to read more about her daughter's struggle with cancer.


Juniper Bay Metals

If I could describe the maker of Juniper Bay Metals with one word I would choose, "Raw and Earthy"...ok, that's actually three words but you get my point. I really want to take a day and go see her studio and maybe even get my hands dirty too! UGH, I love her work. The simplicity of her jewelry is authentic and raw. I got to meet her and her husband and talked with them briefly about their new studio space. Hopefully this fall I can go check it out! Staci, hint, hint! ')
Woodcrafty
I met Jon later in the afternoon before I was headed out the door to rescue my husband from daddy duty. Jon was sitting in his booth reading or fidgeting with something and I just happened to stumble across his cool wood jewelry. I loved the concept of his work and the technique is fascinating. Over the last few weeks I have been enjoying watching him on Instagram and had a few tips for him. I noticed that he didn't have any photos of his work on models. Let's see your work with the perfect outfit? Perhaps you could sell a pendant paired with cuff links for the perfect date night gift. I think if we could see your work in action it would help your customers picture it on themselves. I have a few more ideas for you Jon if you want to give me a call I would love to chat. ;)
I can't wait for my next art show! Do you know of any art shows I should check out? I need to start planning some of these events in advance. Something that I need to work on. Share em' in the comments!
Thanks for reading!