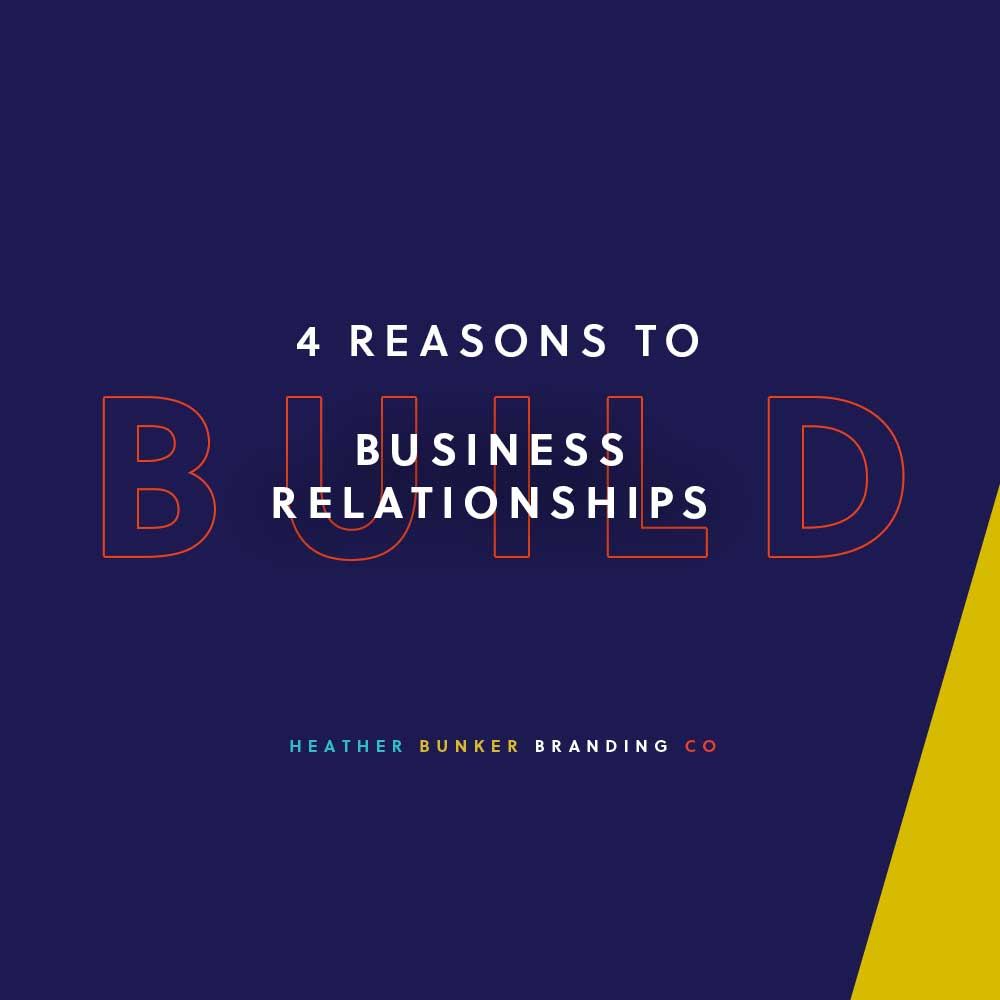 4 Reasons To Build Business Relationships
Don't get caught up in selling your products and forget to build relationships. Build critical relationships with your customers, but also with your vendors, employees and -gasp-even your competitors.
Kitchen Kandy Just In Time For The Holidays
The owner of Fast Lane Metalworks and now Kitchen Kandy is creating some beautiful kitchen eyecandy for homes all across America.
Sana Doumet's Handcrafted Style
Sana Doumet is a jewelry maker with a rich palette of experiences to inspire her work.
Defining Your Target Market Is The SingleMost Important Thing You Can Do As An Creative Entrepreneur
HELLO & WELCOME
I am Heather Bunker: Designer, branding genius, mom of 4 and DIY lover. This blog is a mix of business and fun - full of helpful tutorials, marketing insights and design inspiration!
NEVER MISS A POST
Subscribe to my newsletter and receive monthly post updates, design insights, and more!
I can't tell you how important it is to really understand your target market. Seriously, if you don't know who you are trying to sell your products to, how do you talk to them, market to them, reach them effectively, and build a relationship with them? It's time to build a rock solid foundation for your handmade business and that starts with figuring out your typical customer and adjusting your marketing…or determine if you are actually marketing to the right demographic.
We all know that the economy is kind of crazy right now. I won't get into politics but you so know what I mean. No one, not even the big brands can afford to target everyone. Understanding your target audience will help you effectively compete with large brands by targeting a niche market.
The one thing I hear most from clients is, "I target everyone, anyone interested in my stuff." Others say they target moms, homeowners, or fathers…but that target is too broad. It is time to narrow in.
But here is the cool thing about narrowing in. Just because you target a specific market it does not mean you are excluding or not serving people who don't fit your criteria. Just because your not targeting moms who are 25-45 who are professional and have a busy crazy schedule doesn't mean you can't sell a piece of pottery to a single father. That would be nuts. It's just that target marketing and narrowing in on your target customer helps makes it easier to tailor your messaging and campaigns to appeal to your niche, even if your customer base actually much broader.
Here is an example:
A potter could choose to market to homeowners between the ages of 30 and 70 with incomes of $120,00-plus in the Raleigh Durham area. They could define the market even further and could choose to target only those interested in fine art, gardening, and home improvement. You could break it down into two niches: young couples who purchase a new home and parents on the go.
With a clearly defined target customer, it's so much easier to determine where and how to market your company and products. The above example could look to advertise in a local realtor guide, home show, gardening club, and a few plant nurseries….
Let's look at a few ways we can define
your target customer:
Take a look at your current customers.

A small business's target customer is the group of people you are currently targeting with advertising. Who are your current customers? Why do they buy from you and not someone else? Perhaps do some research and reach out to them with a questionnaire. Who brings you the most business and is very loyal? Really you want to dig deeper and understand your current customer base. This way you might discover trends or see your marketing to the wrong target customer.
One way I like to do this is by actually emailing your list of current or past customers. Ask them questions about who they are, what they love, and even why they bought your product...this information will give you soooooo much insight into who your customers are.
Who is your competition?
Who is your competitor targeting? What customer base do they serve? Are you trying to compete in the same market? Don't. You may need to think about finding a niche market that they are not going after. I put together a little workbook that can help you look at your competition. You can download the worksheet here.
Take a look at your product objectively.
Take some time to look at your products and write out the benefits of each product.
So, for example, a benefit of hiring me as a brand strategist would be:
A professional looking brand (image) = more customers because of trust and more money.

Knowing who your customers are = less wasted marketing dollars.
Professional Help = Having a cheerleader in your corner will help you make better decisions and boost your morale.
Creating a brand and strategy that works = knowing who, what, when, where and why your customers buy and giving them a reason to buy from you puts more money in your business bank account.

---------
After you make your list create another list of people who have a need that your benefit fulfills. The reason I chose to work with Artisans is that I love handmade products, supporting artists, and most makers and artisans need an extra hand. Who wouldn't like to clone themselves?


Demographics and which to choose?
Age, location, gender, income, education, married or not married, occupation, lifestyle preferences?
There really are a lot of factors to think about.
The cool thing is that you don't just have to define your target customer by only one factor…you can combine demographic factors. In fact, a really good target market profile usually combines the major demographic elements.
Marketing by age
Everyone knows that the interests of your grandmother would be very different than a teenage girl. As people grow older they change, their tastes and preferences do too. Age is a demographic that becomes very specific to other factors too. Your geography and ethnic background can affect your marketing when targeting an age. So perhaps your targeting kids age 13-18 in Chicago, that age group in Alabama might not like country music too.
Targeting by Location
Geography or location can be an awesome way to determine your target market. If you are a leather craftsman who lives near a large university you could market to not only the students and the professors. So many options!
Gender Targeting
Make sure you do your research before you decide to break down your target marketing by gender. If you do believe your target market is female then most of your marketing and copy will be written with a female audience in mind. We all know men and women are different and a campaign geared for women won't work effectively for men. So be sure your target marketing doesn't cut out potential customers. Make sure to do your research before breaking down your target audience by gender.
Occupation
Targeting your audience by occupation can be effective if you really know your customers. Maybe you are crafting custom desks and want to target professionals, know where they might work, how much they make, and target them with local advertising and maybe even a few very precise billboards. ;)
Understand what makes them tick.
The psychographics or the characteristics of your target customer can tell you a great deal. What makes them tick? Think about what their Interests/hobbies, lifestyle, behavior, values, attitudes, and personalities might be like…
Write them down.
Then determine how your product will fit into their life. What features are most appealing and where do they look to find information? Do they read blogs, like images on Instagram, read the newspaper, go to certain events? Where could they find you? Really you need to understand what makes your customers tick.
Evaluate your target market
After you have figured out your target customer and market…ask yourself a few questions.
Is the market big enough? Are their enough people that fit your criteria?

Will your target customer really see a need for your product?

Do you really understand what drives them to make decisions?

Can they afford your product?

Are they easily accessible?
Once you have gone through all of this, I usually craft awesome User personas based on each niche you want to target. I wrote a blog post about why user personas can be helpful…and remember you don't have to have only one target market. For each niche market, you can have a different message.
After all of this do some more digging. Search for blogs that your target customer may read, magazine articles that may talk about your target market, and look for surveys (or do one yourself). Don't be afraid to ask your customers for feedback. They love to have input.
The hard part is defining who exactly your target market is and the easy part is finding out where you can reach them. And then what marketing campaigns will resonate with them.

I have been really enjoying writing these blog posts and I hope you found some snippet interesting or inspiring.
I love hearing from you so please tell me what you think in the comments. Also if you do figure out you have a new target market I would love to hear. Please share with me on Instagram or send me an email at heatherm.bunker@gmail.com!
​