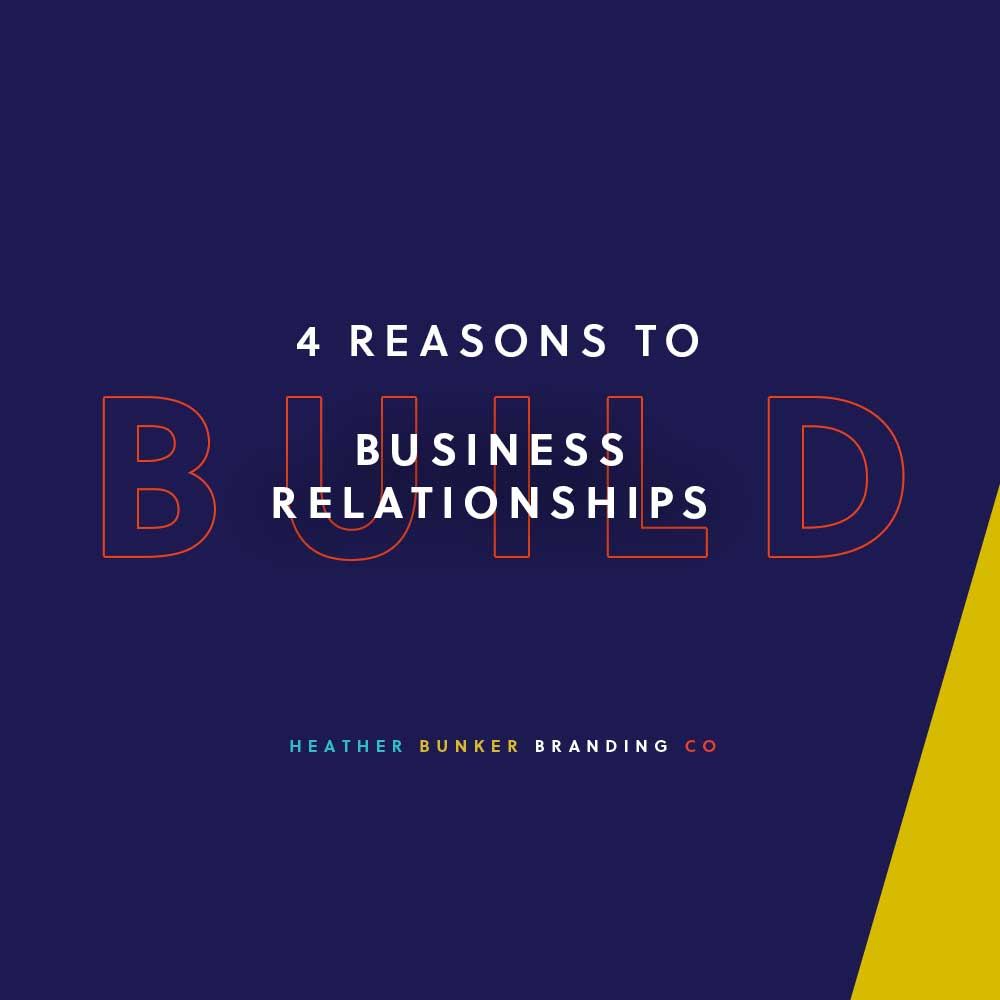 4 Reasons To Build Business Relationships
Don't get caught up in selling your products and forget to build relationships. Build critical relationships with your customers, but also with your vendors, employees and -gasp-even your competitors.
Kitchen Kandy Just In Time For The Holidays
The owner of Fast Lane Metalworks and now Kitchen Kandy is creating some beautiful kitchen eyecandy for homes all across America.
Sana Doumet's Handcrafted Style
Sana Doumet is a jewelry maker with a rich palette of experiences to inspire her work.
HELLO & WELCOME
I am Heather Bunker: Designer, branding genius, mom of 4 and DIY lover. This blog is a mix of business and fun - full of helpful tutorials, marketing insights and design inspiration!
NEVER MISS A POST
Subscribe to my newsletter and receive monthly post updates, design insights, and more!
Every person on earth is in sales. Don't bother trying to escape this fact. Albeit you really are a salesman because your an artisan or maker...but ultimately everyone is in sales. Like it or not everything we do in life is a sales pitch. The way we dress sells who we are. Our actions say something about who and what we are. Even our hair speaks volumes. Even on bad hair days. Pretty much everything we do, wear, and speak of is motivated by what we want or need. I wear cowboy boots because I like to get dirty and drive a truck...no seriously I do. But my cowboy boots say a lot about me. Every day, we are all selling our self and our motivators.
The cool thing about us being an in-ate salesman (or woman) is that something unconscious, something intangible is said before any selling actually happens. Before the pitch is even pitched.
Our values and beliefs are already emanating from the very core of our being. Think of your core beliefs are like a soft breeze carrying the scent of freshly laundered clothes hung on a line...you smell it before you see it. The truly fascinating part of all of this is that when remarkable marketing is aligned with the company's true beliefs their customers absorb and follow the same footpath. They smell the freshly laundered clothes and become absorbed. They become part of your companies family.
Simon Sinek once said, "People don't buy what you do they buy WHY you do it."
Brand stories are super duper meaningful and I think a very necessary aspect of branding. This includes both your literal history—like when and how you started—and the story of the role you play in your customer's life and heart.

Writing and understanding your brand story is the first start...
Here are a few handmade brands with fantastic
stories that I love:
WALNUT STUDIOS
https://walnutstudiolo.com/pages/our-story
Geoffrey Franklin and his lovely wife craft amazing leather bicycle accessories as well as unique travel games, beer, and also architectural accents like drawer handles. They do a wonderful job of telling and living their brand story...take a look below.
REDWING SHOES
http://www.redwingheritage.com/us/USD/page/history
My husband is a true believer of the power of Redwing Shoes. He will not wear anything else. For 21 years he has donned the awesomeness that is Redwing. If you don't know, he is a heavy equipment foreman and loves his boots. They last for years. I think the last pair he purchased lasted about 8-10 years. That is a lot of working days. 2,080 to be exact...but who is counting? Redwing has won over my husband for sure. What I love about Redwing is that although they are a large company they still handcraft their products. For the last 100 years or so they stuck to what they believed in and continue to make a great product.

Cuyana
https://www.cuyana.com/about-us
Cuyana crafts sustainable fashion for people who love timeless simplicity...I just love some of the tunics and dresses and even more, I LOVE their about page. They write, "Fewer, better is the philosophy behind everything we do. We create timeless collections for the modern woman through carefully selected fabrics, precise silhouettes and attention to detail." Take a look at the about page they crafted and watch their lovely video which does a great job of capturing their brand story.
Sword & plough
https://www.swordandplough.com/pages/about-us#tab1
Honestly I don't think I could give Emily the founder of Sword & Plough any more credit and awe than to just quote part of her story...she said, "After listening to an inspiring speech by Jacqueline Novagratz during Middlebury's first social entrepreneurship symposium, a light bulb clicked on – Emily began to think 'What in my life is often discarded and could be turned into something beautiful with a purposeful mission?" How incredible would it be to repurpose military surplus material into durable and fashionable bags that people could use every day?" Ugh so good! I love her products and her story just makes me want to join her tribe. Take a look!
MAKE SURE TO TELL YOUR WHY, ALWAYS.
How can you tell transcendent brand stories? How can you be like Sword & Plough?
Being a small handmade or creative entrepreneur your staff and budget might be small but your reach and effect doesn't have to match. Telling your brand story can start with a simple page on your website. Share photos like RedWing Shoes...tell your story on Instagram...or just simply orate your story with a short video on vimeo.
Take another look at the brands you really are keen for. Remember, their storytelling starts with their WHY.
You can do that.
I have created this simple guide that can help you write your Brand Story.
WE ARE MADE TO TELL STORIES
Writing down your brand's story is not too far from actual storytelling. We are all made to tell stories (my favorite are fish stories) and hear them read and told by generation to generation. Some of my fondest memories were being read to by my mother. Some people even think that stories are really what shape civilizations of today and yesterday.
Remember, when you were a child and you sat on your mothers or fathers lap, reading late into the night? Do you remember that feeling of attachment, comfort, and excitement? The act of storytelling is exactly why telling your brand's story is so very important.
When your prospects are that engaged and enthroned in your brand's story they feel connected in a monumental way. That connection turns them into customers and brand ambassadors and nothing is better for your handmade business than an honest review and referral.
SO WHAT IS NEXT AFTER CRAFTING YOUR BRAND STORY?
NEXT IS THE BRAND GUIDE
Now that you understand the value of telling your story, you need to put together a brand guide. They are an essential business document. Every business, both big and small, should have a complete brand guide with sections related to:
Brand mission / Value propositions and differentiators / Voice and tone / Logo usage / Iconography / Brand colors / Fonts and typography / Media formatting / Photography and graphic styles
You can either put together a brand guide yourself or take this and have a designer do it for you...Now, this is where I tell you that you could try and take a stab at putting together your brand guide and designing your logo but honestly it is best to find a professional designer (like myself) to guide you more thoroughly. Seriously nothing is more important than investing in a quality logo. Remember you get what you pay for. GO GET EM!
-Heather Bunker
The Brand Crafter