BUSINESS BRANDING, MOMMY TIPS, GRAPHIC DESIGN, ART & VARIOUS OTHER THINGS.
MY FAVORITE ARTISANS FROM THE
TENNESSEE FALL CRAFT SHOW 2017- PART 1
HELLO & WELCOME
I am Heather Bunker: Designer, branding genius, mom of 4 and DIY lover. This blog is a mix of business and fun - full of helpful tutorials, marketing insights and design inspiration!
NEVER MISS A POST
Subscribe to my newsletter and receive monthly post updates, design insights, and more!
This past week I was in Nashville Tennessee for the 39th Annual Fall Tennessee Craft Fair 2017.
It was quite the treat and I met some really amazing artisans and made some new friends too. There were so many to meet and so I apologize if you are a maker that was at the show and I didn't get to stop in and say hello. However, I met with quite a few artisans and we talked about a wide range of topics including selling wholesale, inventory, e-commerce sales vs Etsy, brand positioning, differentiators, blogs, Northern Michigan, coffee, motherhood, marketing budgets, family issues, and a billion other things. I decided to make this post into two parts and you can read part 2 here.
I came to meet with my client Mind's Eye Journals and launch the website that has been taking up my life for the last few months.
If you have some time you should take a look. www.MindsEyeJournals.com. I don't want to write about that now though I want to try to focus on the other artisans from the show and the amazing work I saw.
Here are a few of my favorites:
SALLY WADE WORKS
https://www.instagram.com/swadeworks/
Sally's booth was the first booth I walked past at the show and I was overjoyed by her work seriously, the talent that flows through this woman's fingers is unmistakable. I could have stayed in her booth the entire day and discovered something new. Her unique illustration style of all things furry, imaginative, and nature-inspired are truly remarkable. She has a style all her own and her illustrations and concepts are so nicely showcased in silver. From mermaids, fox's, deer antlers, deer, cactus, tree branches, typography (my fave!), sea creatures, rabbits, and all sorts of beautiful things.

I didn't get the chance to speak with Sally long as I had my cousin (who I hadn't seen in 15 years) visiting me for the afternoon...and Sally was quite busy saying hello to old friends too. I wish I could have talked with her a bit more at the show and I hope I get to see her and her work again someday. I truly loved her illustration style and unique use of silver.
I did notice that Sally is not selling her work online and her blog is quite outdated. She could really use an e-commerce platform where she can sell her work online outside of shows. She does use Instagram which I was glad to see and follow (you should too! Follow her here). I do have one of her business cards and I like the simplicity of them...I would love to see her logo be her hand written name with the same font that is on some of her jewelry. Just a thought.
Audry deal-mcever
I have been following Audry for a couple of months now on Instagram. I love how she has taken simple forms and created a unique style all of her own using illustrations of flowers and natural elements. I also love functional pottery and while I was at the show I picked up a spoon rest for my own kitchen which I love. I would have bought a larger piece if I didn't have to fly...also with two young children I am a bit nervous to buy cute table pieces. lol.
*However, I am in the market for a great handmade dinner set. *This really is a hint to my husband.*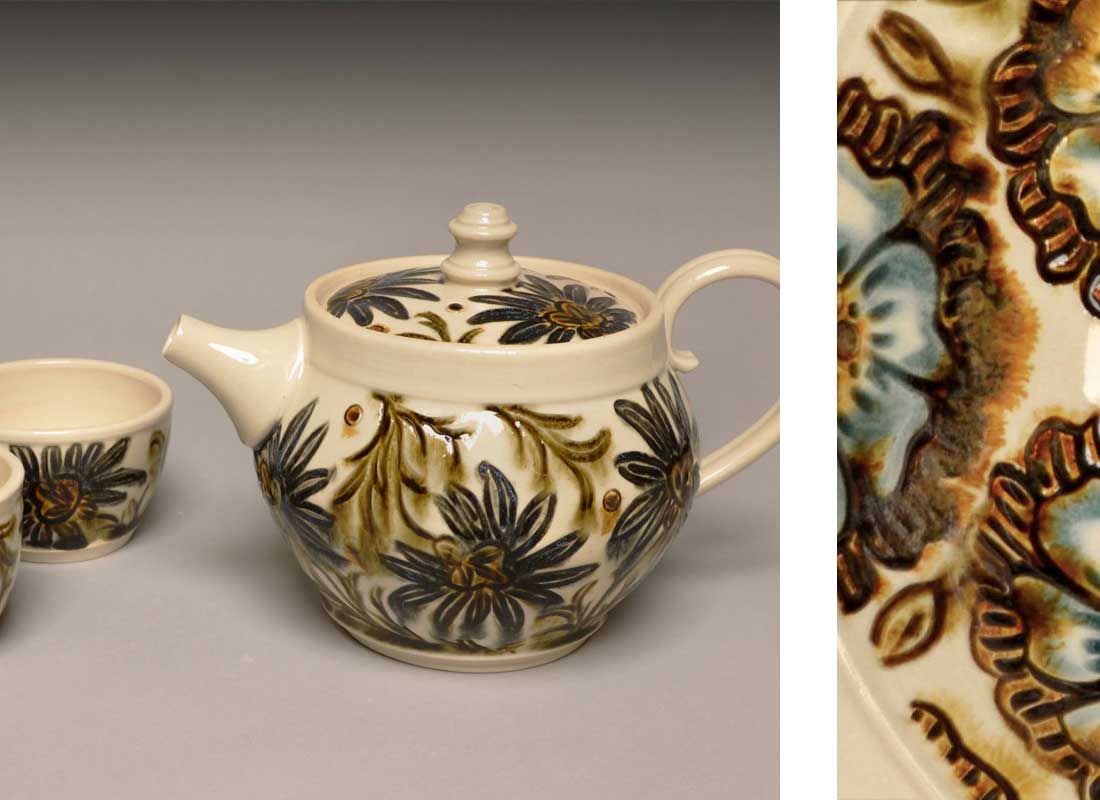 I didn't get to talk with Audry much but I did have a long conversation with her mother who was helping out. After talking with her about my client Teresa Merriman and her beautiful handmade/handbound leather journals and my love for the handmade she told me to look up another bookbinder that she knew (I'm not sure if he knew him personally or through a friend) but I looked him up when I got home. His name is Fritz Eberhardt and he was a German bookbinder that emigrated here in the late 1950's with his wife. He also is a designer, bookbinder, and letterer. His work is renowned and I didn't know that he created the typefaces Markus and Ingrid and studied alongside Herman Zapf. Oh, I just love art and design history and thanks to Audry's mom for sharing and taking me back to college for a minute.
I also learned that Audry teaches classes and I would love to attend one someday. Perhaps when my children are a tidbit bigger.
Katie dirnbauer (KDD Jewelry)
www.facebook.com/pg/KDDjewelry
www.etsy.com/shop/KDDjewelry

Katie was so easy to talk with, the kind of person that you just click with and understand. We talked about my high school experience with jewelry making and her new business endeavor. I'm excited to learn more about what she comes up with. I believe she is talking about starting a small school and offering classes or something like that. I think it is a great idea. Katie has a wide range of different styles. I think from a branding standpoint she would do better to find a style or "place" that she feels fits her and her personality and rock it. Keeping one style will allow her to really build her brand. I hope Katie doesn't take offense to this but I think it would really kickstart more business in the long run. Oh, that gives me a great idea for a blog post.

The pieces that I really liked most were your mini landscape necklaces and Athena collection. Each one of her collections are interesting and beautiful. What a joy it was to meet her at the show.
SALVAGE GOODS
Salvage goods is an amazing story. I love what Clay has started and it was so awesome meeting him in Nashville. He reminds me of a few friends from college and he was such an easy guy to talk with. You can see his passion and hard work emanate from his work. We got to talk for a bit about his company, how he finds his seatbelts, his process, keeping up with production and demand, and his story. I got to stop in a few times over the weekend and see him interact with customers and share his work and I could see why he is so successful. His passion and love for his work really takes center stage. He is doing a great job with his brand, sharing his story, and his work is awesome. It was great to meet you Clay and keep up the stinking awesome bags. If you want to read up on Clay and Salvage goods head over to his website here.
I did have a few thoughts for Clay but they were rather simple.
1. Put your logo on your website, it's on your bags it should be on your site too.
2. Keep up with demand by hiring. I know we spoke briefly about keeping up with demand so hire a few college kids you can train to do certain parts of your job. I know that when it comes to handmade goods a lot of makers are afraid of hiring things out, you can't be when you are trying to grow your business. Either you raise your prices for each piece because of production time or hire people to help with certain stages of production.
3. Create a culture of innovation and start developing the next generation of bags as soon as production begins on the current version. Meaning don't forget to get creative and develop new products. You can even have your hired college students help with ideas. Propagate innovation and business will grow.
4. Dote on your suppliers. When I say this I mean take care of your suppliers and they will take care of you. They want to see you succeed too. So give them a reason to partner with you. I know that you rely on your suppliers (junk yards etc.) for your materials so make sure you are open and honest with them. Treat them like a partner in your success (perhaps even go out of your way to show them you appreciate them - a custom gift or something. OOOOOH a fun Christmas gift.). Vetting your suppliers is so so so important because so much of your success depends on them. Also, ask them if they might be able to gather the supplies as they come in from the streets and onto the lots to save you time. Time=money we both know that.
Clay you are awesome and keep up the awesome work.
Lilygirl - original wearable art by a. Denise rollings-martin
I got to meet Denise on Friday of the show and stopped in a few times. She was a delight to talk to and her work was amazing. I loved her use of natural gemstones, fossils, pearls, silver, and gold. Her intricate flourishes that embellished the gemstones and fossils added to there beauty but didn't take anything away from them. Intricate scrolling silver and the tiny little beads of silver delicately adorned each piece and they were gorgeous.
Not only did Denise have beautiful work she has a beautiful soul. I really enjoyed talking with her about life, health, and the joys of parenthood. I can tell that she is passionate about her work and has great customer service. She shared with me how her dad encouraged her and actually stopped many of times on the side of the road to look for fossils and cool stones. My mother did this for me too. As a young child, I collected beach glass, Indian beads (crinoid fossils), Petoskey stones, and all other sorts of treasures. Beachcombing for me was a childhood joy and so I think Denise and I are a sort of kindred spirits.
leah combs pottery
Leah, I need to order a colander from you! lol. I stopped in a number of times and when I finally settled in on what I needed it wasn't exactly what I wanted. So I need to order a white colander with an aqua blue interior. Oh, or maybe this would be a good hint for my husband. I think he reads these but I'm not too sure. If he were smart he would use this as a Christmas gift list. Anyway, Leah was super fun to chat with and her family and friends were fun too. She does amazing work and I love that they are functional pieces.

Vintage and modern patterns influence her work. Fun and simple designs that totally fit my home and style. Super fun and simple...and I love that combination.
I do have a few suggestions for Leah...your website takes you to Etsy. Why not use your own website to talk about your story. People like to hear and connect with your brand. They want to learn about you, what your process looks like. How your day looks and what your studio is like...that is a huge important missing piece from your brand. Also, maybe you could put a link to your Instagram account on your website page as well. Just a few thoughts.

Donald pekarek fine jewelry
I met Donald on my way to see Teresa at her booth on Friday. I'm not sure why I stopped in but for some reason, I was drawn to his booth. His work is remarkable and I fell in love with one in particular. He even drew a little illustration of it on the back of his business card of the ring I loved. We talked about his custom work and my engagement ring which I don't particularly like but wear because I love my husband. lol. I think the ring I was drawn to was all gold and diamonds...it looked like a hammered gold nugget with diamonds in it. I really loved Donald's work and how clean and precise everything was which really showed his experience with jewelry design.
However when I got home and sat down to look up his information both of the websites that are listed on his business card are no longer available. I had to dig quite a bit to even find his facebook page which hasn't been updated in years.
***A Tip For Donald-Don't lose customers because they can't find you. Make sure your web presence matches the quality work that you do and make it easy for them to order.***
WHAT A TRIP
This trip to Nashville was one to remember. For a few reasons. It was my first time being away from my two young children. Emmalyn is 3 and a half and Owen is almost 2. I decided that I should ween my youngest so this was another crazy thing about this trip. So sad that my baby is growing up, but also a relief. I missed them nearly the whole time I was away. Distance really does make the heart grow fonder.
Emmalyn actually sent me off with one request before I left which I dutifully tried to fulfill knowing it was almost impossible.
Before I left she said,
"Momma, if I am a good girl while you are gone...will you bring me back a pink unicorn?"
As hard as I tried, I even asked a few people to quickly illustrate on a TyeDyeMary dress I bought her. I ended up buying her a cute silver kitten necklace...however, yesterday we did go yard sale-ing while daddy was at work and I found a unicorn for her for 25cents. SCORE! So needless to say I really did miss them and thought about them the entire time I was in Nashville.
I spent the first few days of the trip in the hotel (actually two hotel rooms but Teresa and I can laugh about that). The goal of my first few days was to tie up a few loose ends (which I am still doing) for my fantastic client www.MindsEyeJournals.com. Teresa was such a joy to work with...I'll write that post later.
I also got to see my cousin Ashleigh who lives just around the corner from the airport and I haven't seen since we were like 18 and just out of high school. The years really do fly. We went out to lunch and even celebrated fall with a little pumpkin spice party. I was so blessed to have such great company the whole trip!
IF you were an artist I mentioned in this post please feel free to call or email me at any time to talk. I would love to continue our relationship and look forward to more conversations.. Be sure to share your favorite artisan in the comments.